Mint Design Studio
Mint is a faculty-supervised, student-run graphic design studio at the University of Florida. Beginning in Spring 2020, I worked as a student designer and project manager. In Fall 2020, I worked as a co-leader of the Mint Workshop Team with
Elizabeth Gabriel
.
Project YouthBuild
"Project YouthBuild is an educational, occupational, and leadership program for young people with low incomes who have dropped out of school. Students have the opportunity to earn their high school diploma, multiple nationally recognized construction or CNA credentials, and a post-secondary scholarship; all while giving back to their community."
Spring 2020 — Fall 2020

︎︎︎ Project Management
︎︎︎ Logo Design/Identity
︎︎︎ Workshops
---
Research


Our team spent a year working with Project Youthbuild. The first semester was dedicated to learning the history of the space and connecting with student,staff,and alum through interviews.

Deliverables from that semester included a list of core values and identity marks. The picture above is from the second semester: in that time I co-lead the Workshop Team.

Core Values
Through our research and interviews, we developed a set of five core values to guide PYB and our design work with them, in order to provide a voice and making sure we create a lasting effect on the community.
Empathy - PYB advocates for their students to have bright futures, love, and compassion through empathy.

Integrity - PYB students are honest and responsible, have strong core principles, and hold each other accountable to build the community.

Resilience - PYB students are resilient: they overcome obstacles and bounce back. They have strength, passion, grit, and courage as a means for growth.

Advocacy - PYB naturally advocates for youth to have full participation and obtain the education that they deserve, gives a voice to those facing barriers, and offers the support needed to achieve for their futures.

Impact - PYB has a huge and lasting impact on the Gainesville community and beyond.
︎︎︎ Using Notion to assign roles
︎︎︎ Assessing our skills with sticky notes (in person😿️)
︎︎︎ Interviewing students, faculty, and staff of Project YouthBuild
︎︎︎ Analyzing other YouthBuilds across the country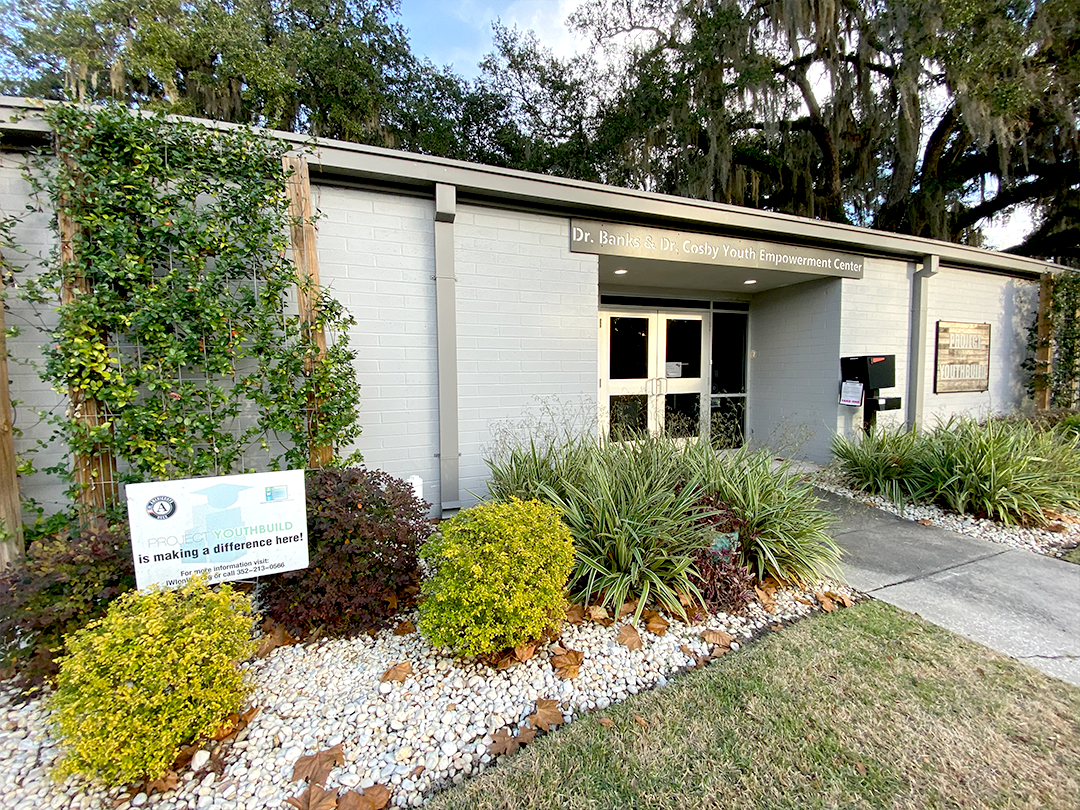 Teams

Identity: a new and more cohesive brand identity to tie together PYB's current voice, outreach, and community impact.
Workshop: providing an interactive way PYB students can connect with UF Designers, Mint, and the Gainesville community
App: facilitating the graduation tracking for the staff and students.
---
Summer 2020
Mint Process Book


This process book is the culmination of Mint's work with Project YouthBuild during the Spring 2020 semester. It serves as an archive, as well as a guide for the Fall 2020 Mint class continuing work with PYB, and Mint classes in the future.

Here are some spreads from the digital process book.
Visual Language


︎︎︎ Handmade
︎︎︎ The Mint "pink"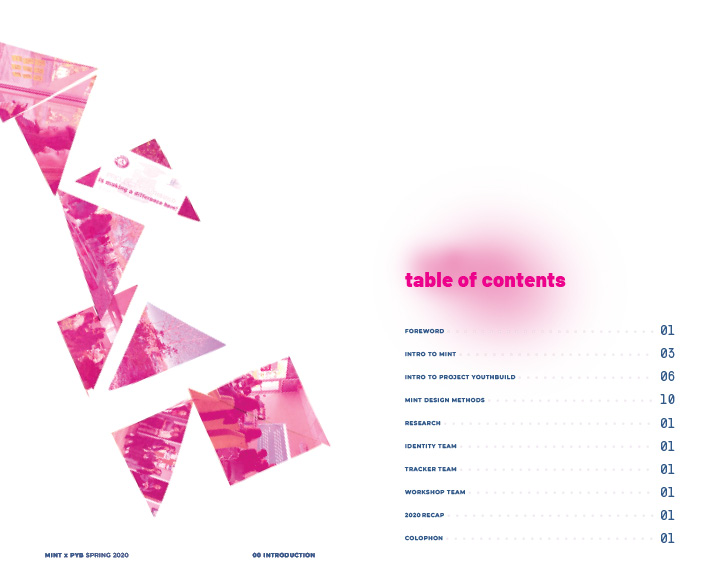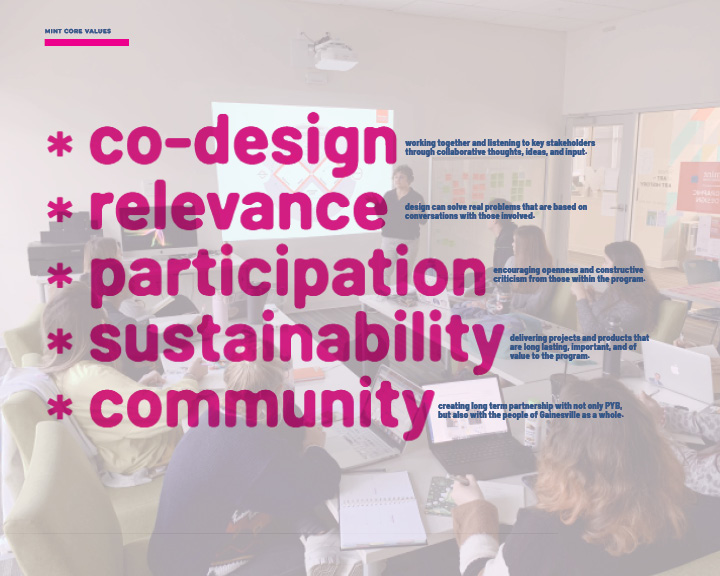 ---
Fall 2020
Mint Workshop Team

Design Problem: Navigating how we can foster connection during a pandemic. (It was hard!)
We created an identity for the Mint Workshop Team. Through a cohesive identity, PYB students could recognize Mint's materials, presentations, and upcoming events.
Workshop Team Deliverables:

A shareable collage kit
A curated set of images to be shared and collaged in different ways.
Three workshop toolkits
Guidelines for delivering future workshops and integrating into the curriculum

Photography Guidelines
Campus Collage slideck and collage kit
Core Values Poetry slidedeck
PYB Yearbook Prototype
Sample spreads for a future yearbook.


Workshop Team Promotional Materials
Workshop Team Folder Materials